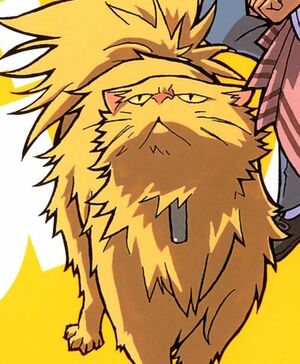 Musashimaru (武蔵丸, Musashimaru) is the pet cat of Kotori Hasutani.
Appearance
[
]
Musashimaru is a large shaggy six-year-old male mixed-Persian with light brown fur.
Personality
[
]
Musashimaru is a very boastful, aggressive, and confident cat that likes to assert his authority over others.
History
[
]
Plot
[
]
At the start of the series, Musashimaru debuts by appearing before Kansuke and demanding that he pay his respects. However, the defiant Kansuke challenges him to a fight. Their fight is interrupted however, by the arrival of Tsukumoishu.
Abilities
[
]
When Musashimaru is given food materialized by Kotori's power, he exponentially grows in size and is able to fend off enemies with great force.